In the DC metro area, it is essential to get seasonal flowers, or annual color beds, in at the right time … so they can reach their optimal color and beauty! It is also important to consider when different flowers bloom in our area, so your property always has vibrant color and floral / foliage interest throughout the seasons. Spreading, mounding and cascading blooms can all fit within your property's landscape design plan, help achieve maximum impact, and enhance curb appeal.
Planting Annual Color Beds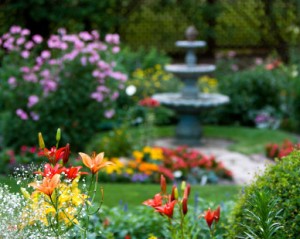 Flowers grow brightest in damp, nutrient-rich soil that is 6 to 8 inches above the grade of your existing landscape. Annual peat and compost amendment is key for DC area lawns and gardens to getting flower beds in order for the coming season. Not only do these additions help feed the flowers, but they augment the soil's ability to retain water. Turning and elevating the soil aerates, aids in drainage, and disturbs any weed seeds still in old soil. Additional water and fertilizer is required after planting.
Kehoe installs annual flowers appropriate for our DC, MD and VA area customers' sun exposure and light conditions. We are expert in optimal annual flower spacing, and creating a garden that really complements your property's beauty. We take local climate and conditions into consideration when selecting flowers, and always work with local nurseries to select the heartiest and most attractive plants.
Let Kehoe pack your yard with color this spring! When Kehoe Landscaping installs seasonal flowers with our Garden Install and Design Services, you can rest assured the results will be stunning. We keep proper sun exposure in mind, coordinate plants and shrubs to best showcase your home, and always consider your property's unique needs. Contact Kehoe Landscaping today to get started on planting annual flower beds at your DC, MD or VA home or business.