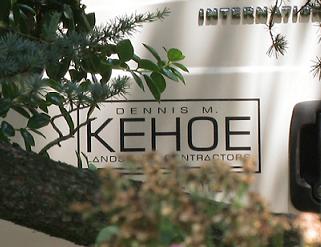 Prior to opening his doors as a professional landscaping contractor in 1981, Dennis Kehoe was already well known for taking good care of his neighbors' lawns in his native Upper Northwest Washington, DC and nearby Chevy Chase, Maryland. During the early years, he worked out of his mother's garage, gathering supplies and employing friends that would one day be the well known and respected Dennis M. Kehoe Landscape Contractors, Inc. His customers appreciated the pride and attention to often overlooked details he provided.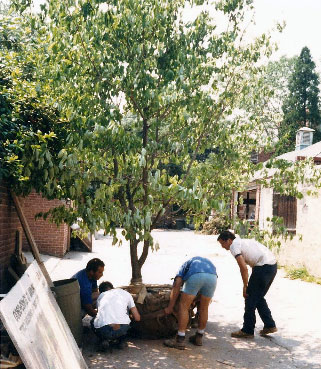 Dennis Kehoe and staff, in 1983, place a hoist around the ball of a tree to be lifted by crane into a Washington, DC homeowner's back yard.
Demand for his maintenance services continued to grow, as did his joy in his work and knowledge of how to best meet the needs of an ever-growing list of upscale and institutional clientele. This led Kehoe to grow into the full service landscaping and design company we are today, offering unequalled design, installation and maintenance services for both residential and commercial properties in Alexandria, Bethesda, Chevy Chase, Great Falls, Kensington, McLean, Potomac, Silver Spring and Washington DC,.
Over the past 40 years, Dennis Kehoe has become one of the most respected landscape contractors in Montgomery County and surrounding areas, with his work featured in Southern Living and Pro Maintenance Magazine. Today, Kehoe customers still appreciate how they feel like part of the family when doing business with such a close-knit and passionate company. We continue to focus on serving upscale, historic, and luxury properties, institutions and estates in the D.C. Metro area, and take pride in our unparalleled ability to understand what is important to them.

Contact Kehoe Landscaping today at (301) 602-1012 or send your request using our contact form