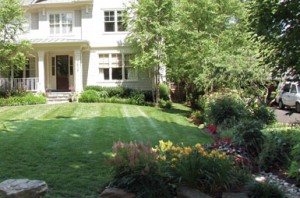 April showers bring May flowers, but they also can create problems for DC area homeowners including flooding and erosion. Water either 1) does not move away from your home quickly enough, or 2) it runs off in an inefficient manner, taking soil away with it.
Excess water and mud can have a negative effect on your lawn, drowning grass. Standing water is a breeding ground for mosquitoes, especially in the DC metro area. Problems with yard drainage occur most often on properties where landscaping and grading is either nonexistent or done incorrectly.
The key to any successful landscaping is good drainage. The proper plants and shrubs on your property can help improve water issues, and French drains and corrected lot grading are also solutions. Proper drainage of your lawn will help you control erosion, eliminate standing water, keep your basement dry and save money. Grading your yard correctly so it will drain properly also helps prevent pollutants from being washed into the storm drain, and eventually into rivers, lakes and reservoirs. Drain your lawn responsibly with help from Kehoe Landscape Contractors.
Kehoe can troubleshoot and resolve all aspects of your yard drainage problem. Kehoe Landscaping's Design & Install Services include Grading, Excavation & Drainage Systems. We are skilled at leveling properties, correcting low areas, excavating unwanted soil and and managing water around our clients' homes and businesses. Contact Kehoe Landscaping today to get started on landscaping for proper drainage at your DC, MD or VA home or business.