Bring your property together with expertly designed patios, paths, walkways and garden walls from Kehoe.
What Materials Should I Use for my Garden Path?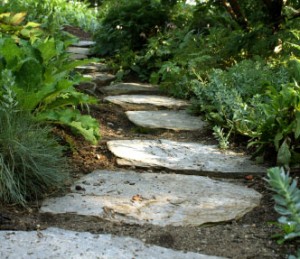 Stepping stones lined with grass, groundcover plants or moss can create a casual path leading from one area of your property to another. Pavers or brick provides a sturdier walking surface and a more formal looking walkway. Gravel or mulch can also serve as an environmentally friendly, fast-draining option for your garden path.
How Should My Walkways Look?
A curved garden path can soften the look of your home and driveways, and provide an enjoyable walk through areas with high visual interest. A meandering walk through flower beds in full bloom, or well-placed shrubbery and trees can make you feel worlds away from the hectic pace of the everyday.
But there is a time and place for functional, no-nonsense paths that get you to your destination quickly, like those that lead from your car to the house when you are carrying heavy groceries or children.
Trust Kehoe to install the perfect pathways on your property, including the ideal edging plants and flowers to complement them.
What Materials Should I Choose for my Patio?
If it's a rustic look you want, forgo brick and concrete and go with flagstone.
Brick patios are another attractive alternative. They are simple yet elegant, and can be laid in a number of attractive patterns with brick edging.
Modern patio pavers offer a host of benefits, including improved drainage and durability. Depending on whether your patio is going to be an outdoor entertainment area, a pool deck, a play area for children or a recreation area for adults, your needs will be different. Ask Kehoe why we advise dry-laid pavers in some cases, mortar in others!
How Can I Deal with Erosion Yet Maintain Style and Elegance?
When your property is hilly and erosion presents a problem, a rock garden can be a beautiful solution.
Retaining walls can also be an excellent solution for dealing with the natural slopes and curves of your property.
Kehoe has the know-how to use plants, stone and hardscaping to add functional elegance to your property. Call us today for a free estimate.