For over 16 years, Kehoe Landscape Contractors has been entrusted with the care and upkeep of the oldest historic home in Montgomery County. The expansive, beautiful stone house was built in stages with native granite available at the home's site, and is reminiscent of an old English or Dutch estate. The east wing of the house was built first, circa 1706, and was used originally as a Dutch trading post and tavern.
Kehoe Landscape Contractors approaches maintenance and upkeep of the Bethesda property as "historic preservation in landscaping." The work we do here includes both art and science: our horticultural know-how is combined with knowledge of area history and our many years of experience making properties look beautiful. Kehoe maintains the front of the grounds as a manicured, formal reception area in keeping with its historical uses. In the 18th and 19th centuries, the front entrance was intended mainly for visitors with titles and status, including the military, politicians and heads of state. The wisteria and boxwood flanking the front entrance are likely 80 to 100 years old, and preserving their size and fullness requires careful and educated pruning. We hand-prune each vine and branch, and use only small mowers for the estate's lawns to preserve the natural contours of the land.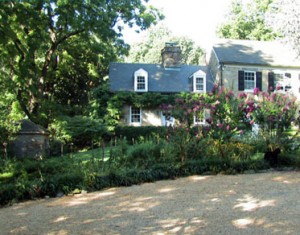 Some famous folks have enjoyed this home and its grounds through the years. In 1847, Nathan Loughborough, part of a famous Washington DC area family and the U. S. Comptroller of the Treasury during John Adams's administration, bought the Montgomery County house and expanded it to celebrate his second marriage. From 1934 until the 1970s, the house was owned by the agricultural economist Mordecai J. Ezekiel.
The grounds are notable for their unique contours, colorful gardens and gorgeous trees including slash pine, flowering magnolias and crepe myrtle. A stone smokehouse, 19th century sunken stone ice house and a rhododendron-bordered mulch and stone pathway leading to Rock Creek are among the historic features preserved on the estate's rear grounds. Today the back grounds also contain a lovely quoi pond. Kehoe maintains these features as the more informal, or casual areas of the property in keeping with their historic uses. Native Americans and other traders arriving at the trading post by water would have used this very path and entered the house through the informal back garden area. Kehoe recently installed additional matching stone steppers on the path in the same granite as the original house. Our team also refurbished the low stone walls that flank the historic path.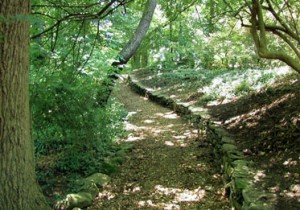 The house holds many secrets, including a basement with trading messages etched into a stone wall. The messages include greetings between English settlers, traders, family and friends. On today's Internet "message boards," minutes or seconds might pass as a conversation gets started, but this old-fashioned stone "message board" conveys a long passage of time – sometimes years – between conversations. It also conveys that this home is special: it must have been well-known far and wide as a stopping and meeting place. For a full photo tour of this property, please visit our Photo Gallery.
Your home is special too. Kehoe Landscape Contractors is known for the care and personal attention we give to every property, whether historic or brand new. Please contact us for a consultation and to get started on your landscaping project today.